There is a local radio station that has a
popular morning show
. Although I don't regularly listen to them (because I think they try to hard to prove they're liberal and not mormon and it drives me insane) they do have some funny segments. One of my favorite segments is titled
things that must go
. It is basically a list of pet peeves that either the DJs or listeners have compiled. But, it is pretty funny.
So, in honor of them, here's my thing that must go: politically motivated emails. I'm not talking about funny ones, because I like a good laugh. Things like a turkey trying to take a bit out of President Bush's "'lil friend" = funny. That is ok to send.
A comparison of the 2 canidates' methods of catching a football = funny. Obviously I didn't make my decision of who to vote for over his athletic prowess (or lack thereof).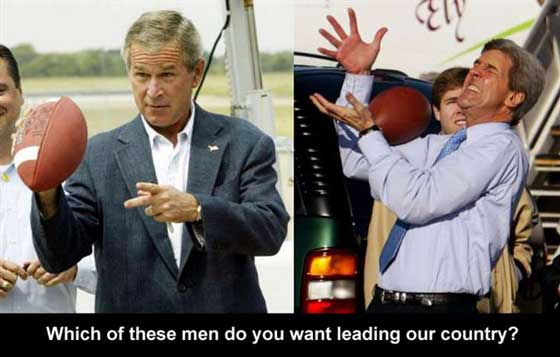 *I specifically used examples from the last presidential election so as not to seem like a hypocrite.
What I'm talking about are the emails intended to direclty influence how I'm going to vote in the upcoming election. I made the mistake of telling a coworker how I intended to vote (I should have taken the advice given to me years ago about working in the public sector: when asked who I intended to vote for, I should always respond by saying "the winner"). Now, said coworker is "hell-bent on bringing me back from the darkside" (his exact words) to which I responded, "you're implying that I was ever not on the darkside." I think he took those as "fighting words" and has sent me every ounce of political diatribe, every stupid picture, every red-neck account that he can get his grubby little finger to hit send on.
Frankly, I'm sick of it.
Does he seriously think that by sending me a picture of a certain canidate without his hand over his heart that I'm going to suddently change my vote? And does he think that by sending me a bunch of crap about how someone's name may or may not sound Muslim that a light-bulb is going to suddenly go off for me? Seriously people, give me a bit of credit.
In the immortal words of John Mayer:
Is there anyone who ever recalls changing their mind from the pain on a sign? Is there anyone who ever recalls breaking rank from something someone yelled real loud one time?
John gets it. Is it really that difficult?